CASE STUDY
PREMIUM FOOD BRAND
Peter's Yard -
Premium Crispbread
• Qualitative and Quantitative research to guide the development of the brand including pricing and pack design , and new product introductions of flatbreads and sourdough bites.
• Research over 6 years guided many key brand decisions that resulted in brand sales increasing by a factor of 4 to eventual sale of the brand at RSV of £12m.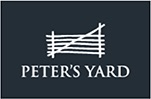 "Sally has worked closely with us on several key projects. She recommended and led research that has been instrumental in a major new listing with a national UK grocery chain and gave us direction when optimising price points, recipes and positioning for a major new product launch into an adjacent category. In addition she led research into a recent pack design change across all our range and we have been delighted with the results. She is highly professional, very experienced and super smart! She is a pleasure to work with and I can recommend her very highly."
Wendy Wilson Bett
Co-Owner and Joint MD
Peter's Yard Ltd